<>The Common Boa>
The animal section contains almost 30 pages and 1,500 links along with information, about animals and insects ranging from the average house cat to elephants. Even a little animal humor is sprinkled around.
This handy pop down menu will quickly take you to the different sub pages of this section. (* are link pages)

Looking for a new pet don't forget to check the shelters!

Have a page about an animal(s)? Send me the URL.
Sign My Guestbook View My Guestbook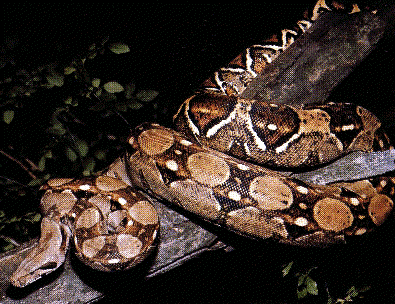 Photo B. Kahl
Range Mexico, Central America, South America
Nocturnal
Needs large area, strong branches, bathtub,
Day temp 82o F - Night 70o F
Will eat mice when young, than rats or rabbits
Brood size 30 to 50, live young
Can grow to 10 feet+
---
This guy is one of the most poplar of all snakes, often born in captivity. Can be a great first snake, if there are no small children in the family. The Common Boa is one of the smaller of the "giants". One must remember they can easily grow to 10 feet and have great strength. As with any wild animal is capable of turning on its owner.

Remember "research" is the key to picking the right animal. Your local book store and library have great information. Also there is a lot of great reference material on the net. My snake page has many links to people that have a wide range of knowledge. Many would be happy to answer questions. Ask the pet shop, but remember they are in the business of selling. Many are good, but not all shops are equal.

The fellow on this page looks much like mine, but a little smaller. He eats 1 small rabbit every 10 days. Lives in a 75 gal. tank, with heat lamp for those cooler times. A large tree limb goes from the bottom left front corner to the top back corner. A commercial made 1/2 tree trunk is used for hiding. I spend a little extra on him, "Lizard Litter". His bath tub is a small kitty litter box. His tank is secured with a commercial metal screen top, that was sent to the welder for extra re-enforcement, and is held down with several tight budgie cords.

Red could have ended up in a horror story. He became too large for his owner. Lucky for him a local pet shop took him, there he sat 6 foot long in a 30 gal tank. Now he lives the easy life. He hates to be handled, has never struck, but can be very nervous.