Back to Easter Kid Stuff -- Easter -- Home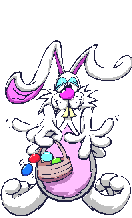 You Found The Magic Egg!!!
Just send in you First name or Nick name (no last names), State or Country, and age.
Along with the Magic Words "Magic Bunny"
And you will be added to the list of other GREAT PEOPLE who know how to hunt Easter Eggs.

---